Twin Cities Assembly Plant – Ford Ranger
April 15, 2022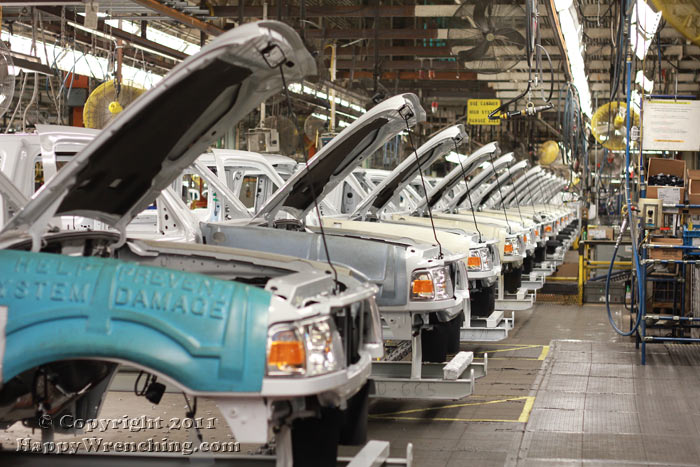 Take a look at some of the photos that were taken on the last day of production at the Twin Cities Assembly Plant. On December 16, 2011 the last Ford Ranger rolled off of the assembly line.
The Ranger was in production from 1983 – 2011 at the Twin Cities Assembly Plant in Saint Paul, Minnesota.
Ford Ranger – Life On The Assembly Line
Where is everybody?
A line of freshly painted Ford Rangers.
Traveling down the line from the Paint building
Bank of full painted Rangers waiting to sent to the Trim department.
Inside the trim department.
Chassis line – during lunch break.
Chassis assembly nearly finished.
🙂
Part of the motor line.
All magic happens here – when two become one.
Very patriotic.
Fill er up please!
These guys are almost ready to be driven.
Some final adjustments.
Ranger ready for testing.
Every Ranger is put through a series of tests and checks.
The last batch of Rangers
The Last Ford Ranger
D-Day is upon us. Last Ranger body is painted and ready for action.
Coming down the line through the Trim department.
Lots of picture taking.
Winshield robot doing its thing one last time.
Exiting the Trim department.
Smile everyone!
Last Ranger body is fully assembled.
The only way to truly identify the last Ranger 🙂
Way too crowded.
Smile for the cameras.
Can you see him?
Uh-oh I've been spotted!
Something is going down to the left.
Great photo op.
Two questions – is this the first Ranger and does it still run?
The Aftermath
Prince Charming. But where is Snow White?
Pure robotic awesomeness.
This has to be Snow White.
You should see these things in action.
I can tell that something great happened in there.
Kawasaki FTW.
Empty.
The best line in Trim department 🙂
Look at all those hoses.
Empty motor line.
This used to be full of parts.
Over 300 photos taken and 150GB of video recorded on the last days of production. I hope you enjoyed this small glimpse into the Ford Ranger legacy. Take a look at the YouTube video below of the final production day!